Description
7" Full-Colour Touch Display
-3% - 15% Quick Incline™
iPod® Connectivity
3.5 CHP Mach Z™ Commercial Motor
Integrated Tablet Holder
Features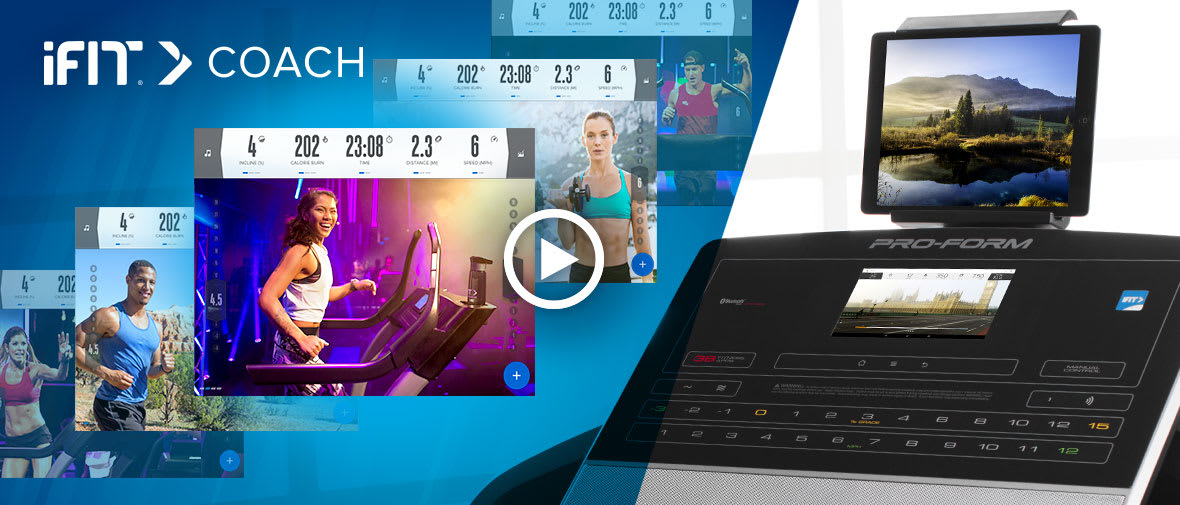 iFit® Enabled
1-Year iFit® Membership Included
iFit makes your home your hub for health and happiness. We have created the world's smartest fitness experience and provide it to you from the comfort of your home. Now you can experience every type of training available, any time of the day.
The Pro 2000 comes with a 1-year iFit membership, giving you full access to an expansive collection of worldwide workouts and an ever-growing library of limit-pushing studio workout classes that will get you moving and sweating on and off your machine.
7" of Swipeable High Definition
7" Full-Colour Touch Display
Stay captivated and motivated as you follow along with your favorite trainers guiding your workout through beautiful scenery around the world. With a 7" touchscreen, It's also easy to swipe through and view your workout stats.
Everlong-Lasting Motor Dependability
3.5 CHP Mach Z™ Commercial Pro
When you work out with our trainers, you'll be taken up hills and through valleys at many sorts of speeds. The motor on the Pro 2000 sports a heavy 3.5 continuous horsepower drive system that will not let you down no matter how often your incline or speed changes.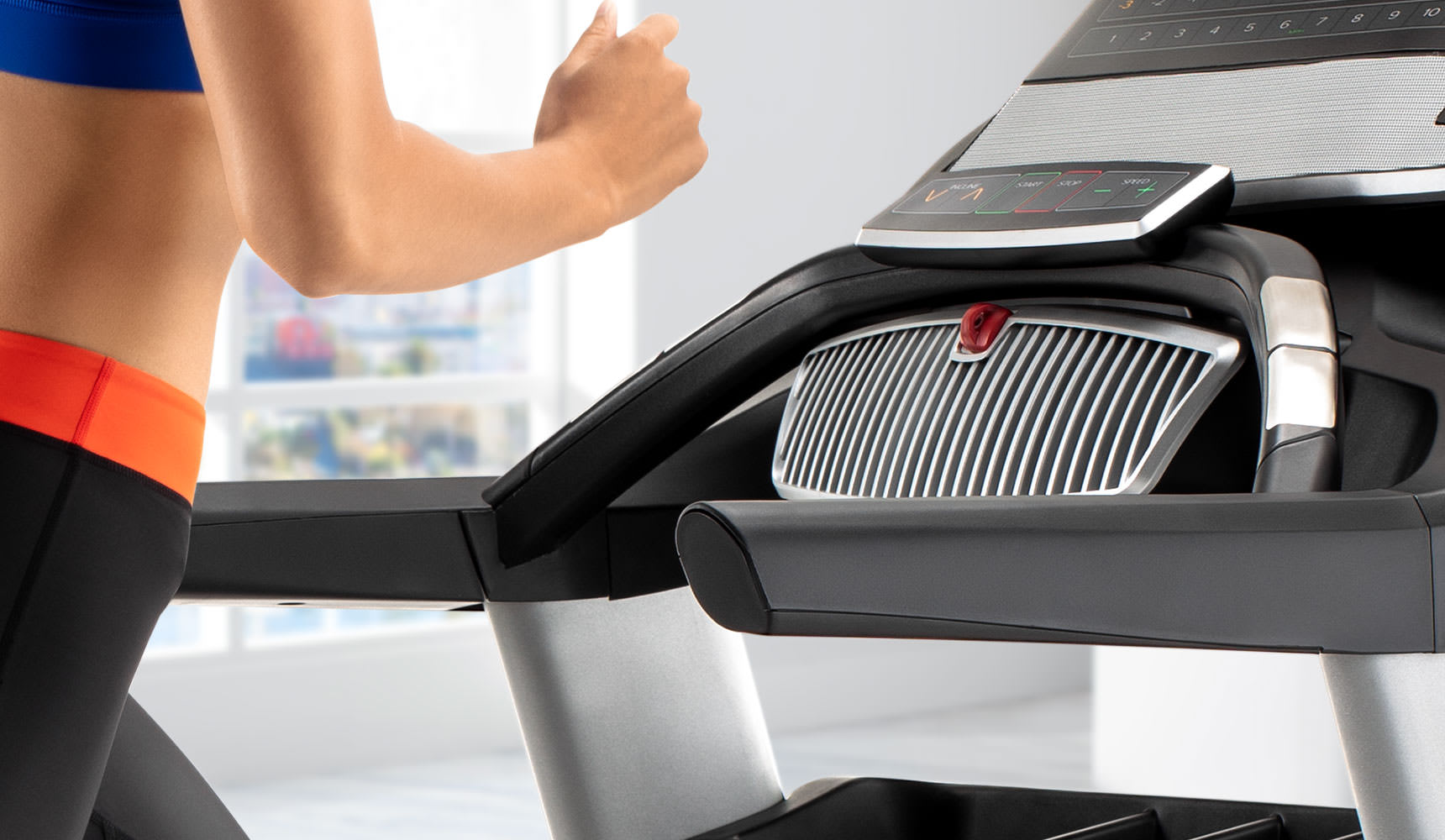 Body Conditioning Meets Air Conditioning
CoolAire™ Workout Fans
Our built-in CoolAire™ fan keeps your workout comfortable from the moment you step onto the deck to the moment you step off. Choose from two speed settings for instant control—because one of the joys of indoor workouts is climate control.
Maximize Your Space
SpaceSaver® Design
We know it can be difficult to create space for a home gym, so we designed the Pro 2000 with SpaceSaver® Design, which means you can conveniently fold the deck up and out of the way. And with EasyLift™ Assist, you can use the built-in, powerful shock to help you lift the deck with an easy push.
Specifications
0- 22 km/h Digital QuickSpeed® Control
Thanks to a bigger motor size, we are pretty proud of this machine's 22 km/h top speed. Our in-home efficiency booster means you can run every day without using excessive amounts of electricity. And the convenient QuickSpeed® buttons let you adjust your intensity instantly, so you can stay focused through every step of your workout.
Total product weight - 140 kg
When fully assembled the Pro 2000's total product weight is 140 kg.
7" Full-Colour Touch Display
The Pro 2000 treadmill is equipped with a 7" Full-Colour Touch Display.
The Pro 2000 offers powered, automatic incline and decline adjustability. When you train with incline, you know you're giving your legs the best workout possible on a treadmill.
Once you create your raving workout playlist, just plug your iPod® or MP3 player into our built-in sound system. Built with two 3-inch speakers, you can turn up the tunes and turn up the tempo. Experts have learned that we actually increase or decrease our pace to match the tempo of our tunes. Plus, music has also been proven to lower perceived exertion.
*iPod® is a trademark of Apple, Inc., registered in the U.S. and other countries. iPod® not included.
3.5 CHP Mach Z™ Commercial Motor
Choose the motor that will run with you, from Chicago to Cape Town. Smooth. Powerful. Durable. Proven. This large-frame motor stays cool through the toughest workouts; creates high levels of inertia for a smooth, powerful feel; and promises a quiet in-home experience. Great for heavy use.
Boxed dimensions - 215 x 89 x 40 cm (LxWxH)
When boxed the total packaged dimensions for the Pro 2000 Treadmill is 215 x 89 x 40 cm (LxWxH)
Product dimensions - 205 x 98 x 180 cm (LxWxH)
When assembled the product dimensions for the Pro 2000 is 205 x 98 x 180 cm(LxWxH).
We know you like your house to be clutter-free. So we invented a treadmill that folds up and out of the way when you're done with your workout. It totally rocked the fitness industry; but honestly, we're just glad you don't have to sacrifice your living space for your fitness habit anymore.
Folded product dimensions - 97 x 99 x 190 cm (LxWxH)
The folding dimensions of the Pro 2000 are 97 x 99 x 190 cm (LxWxH
Total max user weight - 135 kg
The total max user weight for Pro 2000 is 135 kg.
55 cm x 152 cm Running Deck
The Pro 2000 features an impressive 55 cm x 152 cm Tread Belt.
EKG™ Heart Rate Pulse Grips
Grab hold of in-the-moment heart rate monitoring. These two hand-grip sensors are conveniently built into the handlebars. In a couple seconds, you'll be able to see your heart rate at any point in your training.
BLE Chest Belt Compatible
The Pro 2000 Treadmill is BLE Chest Belt Compatible.
2.5'' Precision Machined and Balanced Non-Flex Rollers
We know that a quality product is all about the details. That's why we've built the Pro 2000 with huge precision-machined, balanced, non-flex rollers. These decrease tension, which keeps wear and tear to a minimum. You'll also notice less noise and better grip.
Make fitness time multi-tasking time. This adjustable holder clamps down to secure your tablet and keeps it conveniently close so you have access to all your training tools and entertainment must-haves. *Tablet is not included with the Pro 2000.